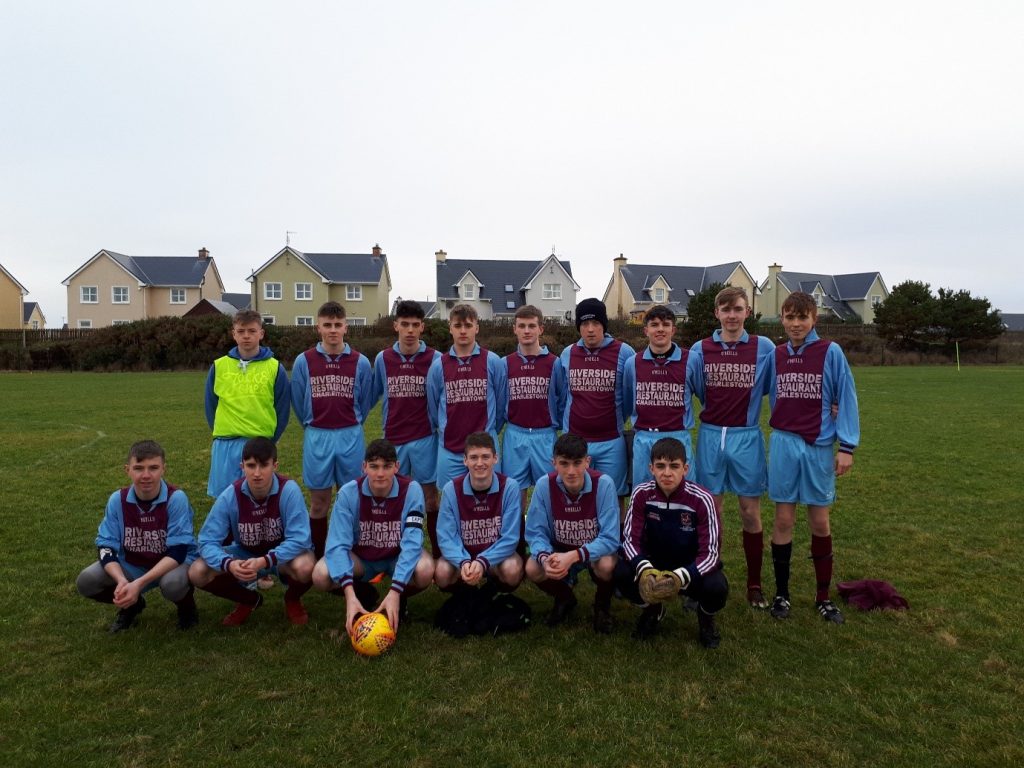 A Tale of Two Jacks, ten other Heroes, great heart, determination and will to win see St. Joes make it to the Final over a Gallant Belmullet side.
Our Lady's, Belmullet……………1     St. Joseph's Charlestown………2
 (h/t 1-2)                                                                                                      Jack Brennan 2
This game was not for the faint -hearted, it was a full blooded, pulsating affair from start to finish. Credit must go to both sets of players for playing such an incredible match that seemed to last forever and yet all the scoring was done in the first half!
There have been many great battles over the years between the two schools and this one lived up to any of the past fixtures. It was great to be greeted by Mr. Reilly and Mr Turner on arrival, two gentlemen who have given so much to soccer in the Erris school for what seems like an eternity. Their current crop is not bad either!
Belmullet started the livelier and had two early corners that came to nothing. Ruairi Cullen and Jack Mahon combined to force a corner for the East Mayo school which was also neatly dealt with. Our Lady's took the lead after 9 minutes with a bizarre effort, a corner swung right across the face of the goal and nestled high in the top corner much to the astonishment of all players, and indeed all present, and this happened on a day that did not have a puff of wind. Credit to the corner taker for executing such a bit of magic!
The lead did not last for long, however, as an incredible move from back to front saw St. Joes level. Central defender Jack Brennan started it and within seconds, like a hot knife through butter a combination of Cullen, Mahon and Ben Conway had ripped the seasiders wide open for Brennan to place the ball in the net. This equaliser gave Joes great belief and rattled Belmullet. Mahon then forced a great save from the 'keeper but the corner was missed by the referee. A few minutes later Mahon was at it again, this time latching onto a Tomás Goldrick pass and putting it beyond the goalkeeper, but he was adjudged to have forced the ball from the goalie's clutches and the "goal" was subtracted. Luke O' Donohue set Mahon up for another, but the Captain blazed over. With 30 minutes on the clock Mahon was just a total nuisance to the opposition and they could not deal with him.O'Donohue did a nice move out at the corner flag and fed Mahon who was taken down mercilessly  and the referee gave a free which caused panic in the home defence and the calmest man on the field, Jack Brennan got a little flick to the ball and it ended up in the net. The quiet assassin had struck again! Charlestown were good value for their 2-1 lead and the Belmullet boys wanted half time to arrive quickly They did have a half chance before the break which Eoin Goldrick cleared well. Another good move involving Mahon and O'Donohue saw Cullen fire over on the whistle.
For a true reflection of the second half get out the DVDs or look up YouTube of Ireland V Holland in a World Cup Play Off in Dublin many years ago, yes, you know the one! Do you remember when Holland camped in the Irish half and tried their best to score and Ireland fought a great rear-guard action to keep them out. This is what happened in Belmullet on Wednesday afternoon! Belmullet were Holland and Charlestown were Ireland.
Sean Dunleavy made a nice save after a few minutes and Ciarán Honeyman had a sortie forward, calm enough for now like the weather on this particular day but the hurricane was brewing. Belmullet shown what fine footballers they were with their second half onslaught but no matter what they tried they just could not breach fortress Charlestown. Their every move perished on one rock or other, David Doherty had his finest hour in a school shirt, Honeyman was just a tank, Eoin Goldrick terrific. Brennan was calm and so very effective. Cullen had another fine game, he now believes that he can do what other know he can do for ages and Mahon had now receded a fair bit to assist in keeping out this tsunami. Dillon Curry put his shoulder to the wheel and dug deep, he had to and did very well, keeping calm in the process. O'Donohue provided the outlet up front and Ben Conway's' energy carried some of the pressure forward away from his defence. Young Tomás Goldrick proved that if you are good enough you are old enough with his reading of play. Strange as it was Dunleavy had only one save of note to make in this time, showing how strong the defensive wall in front of him was. Martin McCormack was unleashed for the final quarter and his pace asked a few questions of the opposition. One beautiful cross for Conway should have been converted and Mahon brought a world class save from the Belmullet 'keeper in the dying minutes. One last throw of the dice saw a 30-yard pile-driver go the wrong side of the St. Joes post much to the relief of the the East Mayo lads. They had proved that they are a team with this performance. The final whistle, when it came, brought relief for St. Joes but they shown today what they are capable of. Belmullet, fair play to them, never gave up the fight and I would expect to do battle with them again soon. Thanks to the Referee Mr. Doherty for keeping the game flowing.