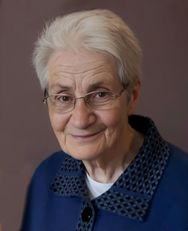 The students and staff of Saint Joseph's Community College wish to extend their sympathies to the Ryan family and the Marist Sisters on the passing of Sr Moira Ryan. Sr. Moira served in a number of Marist communities around the world before returning to Charlestown where she taught Art in Joseph's Secondary School for many years.
Sr. Moira's journey was one of selflessness and service and her caring and kind-hearted nature knew no bounds. Her gifts and talents were not confined to the classroom but were evident throughout our local community. Her love for art and education was an inspiration for the pupils who had the privilege of knowing her.
May she Rest in Peace.