St. Joseph's C.C……4  7 Moneenageisha
                      (C. Horan,2, Duffy 1, P. Goldrick,1)
(After extra time, full time score 4-4)
This u19 Connacht Cup Quarter Final turned into a sensational game at a wet Bellaghy on Monday afternoon, full of goals and near misses! It is the Galway city school that progresses however on a score line of 7-4. Moneennageisha translates as the Cluttered  Meadow and this game lived up to the name as it was cluttered with goals galore from start to finish, one better than the next. First blood went to the home side when a Charlestown player was held back at a corner kick. The referee pointed to the spot and Cathal Horan found the bottom corner with ease to give St. Joes the lead. Moneen settled and went down the other end and drew a good save from Declan Forkan.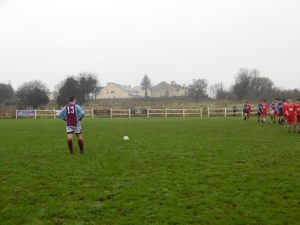 The Galway men then actually missed a good chance to go ahead. Good efforts from O'Donohue and Goldrick kept the homeside on the attack and when a delightful Padraig Duffy cross found Horan, he dispatched his header with some aplomb, totally wrong footing the 'keeper. St. Joes were very much in control at this stage but the Galway men were by no means out of it. Captain Ciarán Sweeney along with his central partner Conor O'Toole were ruling the roost and they were ably assisted by Lorcan Henry ,who made a few telling interruptions to the Galway play.Eoin Beirne gave his usual commanding display at left back.
Horan had a great opportunity on 38 minutes to extend the lead but found the Galway goalkeeper equal to his effort with a fine stop.
If only St. Joes could have gone in at half time with a 2-0 lead things could have turned out differently. As it was the Galway boys were back in the game thanks to a penalty kick, given for a tackle from behind just on the edge of the box.
The second half started very well for Moneenageisha, a good breakaway goal two minutes in brought the equaliser and then with their tails up came the lead just a minutes later, a close in effort with the Joes defence marked absent. If anything, their early period of dominance and goals took their toll and now it was St. Joes turn to up the ante. Horan shot over and then 10 minutes in, a great move involving the skilful Luke Dunleavy and Goldrick saw Duffy finish a glorious chance with an angled shot low into the corner of the net. Both teams then seemed to go through the motions for ten minutes with nothing of note either way. A 30-yard snapshot, good enough to win any game came by way of the Galway men on 65 minutes. This along with Young Jack Mahon winning a lot of dirty ball and the introduction of Keelan Horkan jolted life back into the Mayo school. Horkan picked the ball up in midfield and threaded a pass through to Goldrick who beat the defence and the goalkeeper to restore parity once more. While both teams did their utmost to win it in normal time there was an inevitability that extra time would be required.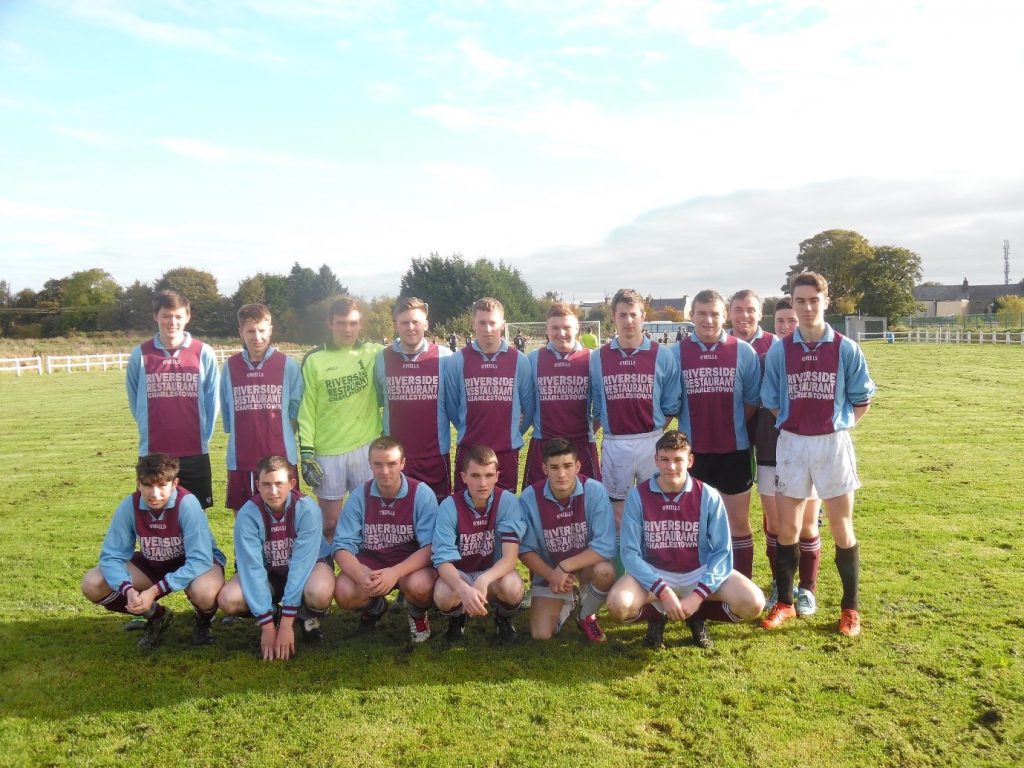 Three goals in quick succession at the beginning of the first period of extra time in worsening conditions would serve the death knell for St. Joseph's as they never really recovered from this even though they tried valiantly but it was not to be on this occasion. Nice words from the Galway manager at the end saying he would love if his lads had the same attitude as the Charlestown boys to dig in when the need arose. The Galway lads, to their credit, took their chances when they got them and were able to rescue the game when the opportunity presented itself, more of this will see them go close to if not win the senior competition.
On a personal note, I would like to say "Thank You" to some wonderful players that served their school so well over the past 6 years. There were great days, winning Connacht's at various age levels and days like today when we came out second best but you always tried which is what it's all about. Today we also saw some of the younger players come into the team and hopefully y some day we will remember them as we will the senior lads from the past few years. Go raibh maith agaibh go léir, ní dhéanfaidh muid dearmad oraibh go deo anseo sa scoil!