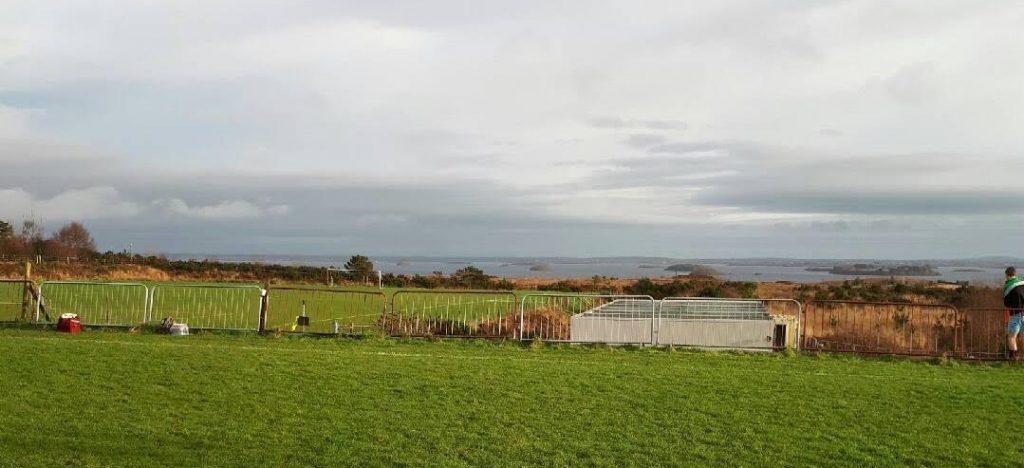 St. Paul's Oughterard won through to the Connacht Cup Semi Finals with a devastating 10-minute spell midway through the first half in which they notched 4 goals without reply at the expense of a St. Joseph's side that battled bravely to the very end but to no avail against the unbeaten Galway kingpins.
The difference between the teams was the ability of St. Paul's to take their chances while their Mayo counterparts were wasteful in front of goal. This proved very costly in the end for St. Joes.
The setting was most picturesque in New Village, a couple of miles outside Oughterard in a forest clearing with heavenly views on a superb pitch. St. Joes started very well and had the best of the earlier exchanges. A 25-yard thunderbolt from the left by Jack Mahon clipped the crossbar with the goalkeeper well beaten. Had that effort gone in there may very well have been a different outcome, as the St. Paul's manager remarked afterwards. Unfortunately, from a St. Joes point of view, it did not and between that 15th minute and the 25 minute of the half the Mayo school had a mountain as tall as any Connemara mountain to climb. For some unfathomable reason the Charlestown team allowed the Galway lads to flow forward and the goals were softly conceded.
They were simply taken scores but credit to St. Paul's they were taken which proved to be the difference between the teams on the day.
The Van Morrison song "When it's not always raining there'll be days like this" springs to mind and from a Charlestown point of view it was very true. The lads could be there yet and there would be no goal scored but it wasn't for the want of trying. Try they did but to no avail.St. Paul's played a nice simple game and football is at its best when it is simple and the ease with which they passed the ball to the net showed a confidence that comes with their unbeaten run and who knows where it might take them.
For St. Joseph's there is no shame in losing to an unbeaten team, Credit where it is due the team, and the subs when introduced, continued to press for openings and the honesty with which they represented their school was a joy to behold. The overall age profile of the team is quite young with the majority u19 again next year and the year after.
To the older lads who represented St. Joes at soccer for the last time we wish them well. Declan Forkan has grown into a fine goalkeeper from nervous beginnings many years ago and a fine gentleman to boot. Luke Dunleavy, should continue to play soccer, his mesmerising skills were a joy to watch and were a curse if you happened to be the opposing team, even today he was doing things with the ball that others would not even think of. Adrian Flatley, always gave his all to the cause, strong and secure and a "sound" man with it. If that header was on target today we would have a Bank Holiday in Glann tomorrow! James Gallagher, played with a smile on his face, wherever he was asked to, played a while in goals today and pulled off a great save, lovely fella. Eoin Beirne, a great team player and a powerhouse with it, had no luck today, made several chances but unable to convert but he did create them. A very honest individual.
We wish St. Paul's well as they go into a Connacht Semi Final and if they "keep it simple" they could go another step or two.
We also say "thanks" to James ,our driver who delivered us to and from matches throughout the season.