St. Joseph's u15 boys travelled to Castlebar on Tuesday to take on Group colleagues Glenamaddy, Enniscrone and near neighbours Swinford. For Charlestown's St Josephs it ended with the old Irish Proverb "tús maith, leath na h oibre!" (a good start is half the work!) being proved wrong on this occasion!
St. Joes started very well and by defeating Glenamaddy by a single goal and what a goal it was! The first half was a very even affair with both sides cancelling each other out. The Mayo boys ended the first half with two glorious opportunities, one put over the 'bar by Keelin Devine and the same player hit the post from close range a minute later. Honours even at half time and all to play for. The second period had just begun when James Conway latched onto the ball just inside the Glenamaddy half, he tore down the wing and eluded two defenders and from an impossible angle scored an outrageous piledriver of a goal into the top corner. Gasps of astonishment could be heard around the packed arena. Definitely "goal of the day" or was it! Conor Gavaghan, in his first soccer game for the school was unlucky a short time later when his goal bound effort was stopped on the line, but only just, by an agile Glens 'keeper. The game finished 1-0 to St. Joes. New boys Daniel Harrington and Kyle McLoughlin put in a terrific performance defensively.
Next up was a well drilled looking Enniscrone team that had accounted for Swinford in the first game. The game was only 5 minutes old when Conway had the assembled crowd gasping again. He collected the ball, with his back to goal out on the wing and turned exquisitely before drilling a super shot beyond a bewildered Enniscrone goalie. Excellent defending from Duffy and Captain Goldrick gave openings to Donny Durkan who had a very good half, ably assisted by Kacper who put in a trojan effort in midfield. A great save from new Charlestown goalkeeper Michael Marren, (told us the apple does not fall far from the tree), the nephew of Cathal, who was a fine 'keeper during his schooldays and Fergus who was also known for his goalkeeping skills pulled off a fine stop with his feet. One goal up at half time was nice, to say the least! Tom Horan had put in a polished performance, this time as a defender during this spell. James Gallagher also did his bit on the wing.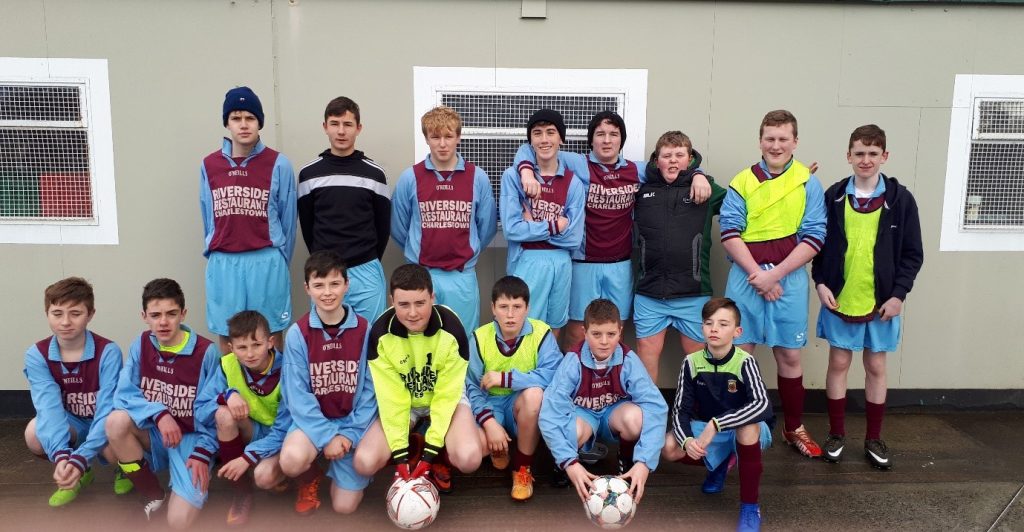 With the second half only, minutes old that man Conway again had doubled his sides lead with a goal very similar to his one against Glenamaddy, picking the ball up, out on the side line and powering down towards goal before unleashing an unstoppable effort beyond the diving 'keeper. St. Joes were in dreamland and Tommy Maughan, as well as Durkan tried to get a third goal. But the Enniscrone boys are made of stern stuff and edged back into it with a goal of decent quality, Marren got his hand to it but could not prevent it hitting the net.
Its amazing what a goal does for a team and within minutes not only were Enniscrone level but had their noses in front with a break away effort before cutting loose with a late goal from a corner. St. Josephs were now a tiring force and would face their neighbours Swinford next. Could they rise to the occasion?
Swinford had gotten off the mark by accounting for Glenamaddy and were fresher for this latest tussle. Unfortunately, from a St. Joes perspective, the game came too soon, and the East Mayo boys stood off and let an early chance put Swinford in front. At one stage it looked as if Marren was playing Swinford on his own as he put in an almighty shift, saving a penalty to boot! Even the addition of Paddy Casey and Adam Maye saw no way back for the Joes but Michael Honeyman tried to stem the tide with some useful defensive blocks. The "never say die attitude" was there, the brain was willing, but the bodies were weary. Two further goals saw the bragging rights go the way of black and red team. As one First year boy summed it up," we played well for a game and a half!", how correct he was!
Thanks to the Referees, Michael and Mick and to Joey Burke who made sure things ran like clockwork and had the kettle on as well on a day where we witnessed the four seasons weather-wise.